Activities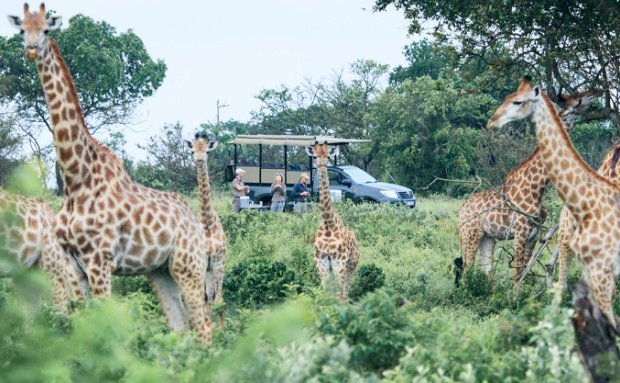 "Where in the world can you explore the magic and wonder of unspoiled beaches, vast wetlands, game drives, and an unforgettable boat cruise on an estuary?"
Welcome to the sacred family owned and run Makakatana Bay Lodge. We look forward sharing the iSimangaliso Wetland Park, World Heritage Site with you.
Magic and Wonder Safari's
We tailor make your safari's. We have created a pre-arrival survey to ensure we get to know what you love, before you arrive, so that we can create your dream safari package. Our full day safaris are included in the fully inclusive rate. Guests must please advise in advance what day safari they would prefer to book if they only have one full day with us. The standard day trip offered on a two night stay is the Boat  and Western Shores Safari.
We regret there are no private vehicles for game drives and that full day safaris are not offered on the day of arrival or the day of departure or on a 1 night stay. Here is a suggested itinerary for four nights:
See our 5 day Itinerary options below:
Day 1: Park Western Shores Wetland Safari Drive
On the day of arrival you can enjoy an afternoon wetland drive (departs 15h30 Winter / 16h00 Summer) where you get a taste of this enchanting pristine park with the immense bird and wildlife, great and small, on our luxury open safari vehicles. You get to enjoy a drink under the magical colours of the sunset skies while absorbing sounds and smells of the night setting in. Sightings could include: giraffe, wildebeest, buffalo, zebra, hyena, waterbuck, serval, porcupine, genet, leopard and elephant.
Day 2: Lake Wetland Boat Safari
After breakfast (09h00) you will enjoy a safari game drive through the western shores to the Makakatana boat where Warwick our skipper eagerly awaits. Enjoy a two hour leisurely cruise along Africa's largest estuarine system. You will see crocodile and lots of hippo, as well as birdlife (530 Species in the area). Afterwards, your guide sets up a picnic lunch served on the lake side before return to the lodge (15h00).
Day 3: Beach and Park Eastern Shores Safari
After breakfast you dpeart at 09h00 and enjoy a leisurely safari game drive through the western shores onto the eastern shores to a pristine beach on the Indian Ocean iSimangaliso coastline where you can enjoy a swim, snorkel and picnic lunch in the highest vegetated sand dunes in Africa, reaching 180 mt in height. After your sun charged day, you return back to the lodge at around 15h00 with salt on your skin and windswept hair to be welcomed back for high tea.
Day 4: Morning wetland drive and bush breakfast
Enjoy an early morning drive in the wetlands followed by a bush breakfast and return to the lodge by 11am.
Relax and enjoy the pool and a light lunch, spend the afternoon at leisure.
Day 5: Park Western Shores Safari Drive
Before we bid you farewell there is a morning western shores game drive for you to enjoy the wakeup calls of the park before breakfast and departure. Depart 05h30 in Summer / 06h00 in Winter– return by 8am.