The Makakatana Story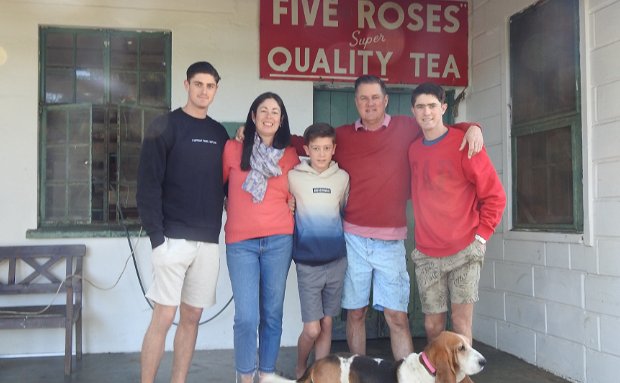 It all started with a vision that was built on a foundation of solid, deeply rooted passion. A vision to share a spectacular place that Hugh grew up in. Makakatana Bay which is named after a Zulu Chief called "Chief Mhakhakhathana", on Lake St Lucia was Hugh and his siblings playground growing up. The freedom of space in the wilderness was deeply rooted in Hugh's life, and after 10 years away he returned with his wife Leigh-Ann, where they began their journey building a magical lodge in a wonderous place.
The Makakatana Bay Lodge logo of the crab was used because the land on which the lodge currently lies had an old concrete block house built on it by Hugh's grandfather, John Kemp Morrison (Jock) who used it to store fish and crabs in the early 1900s.
The 'crab' house was later left abandoned due to the severe heat of summer and due to the banning of commercial catching of the crabs. When the Lodge was built, it was initially used as a wine cellar, but a fig tree fell in love with it and now commands the space with spiritual grace and presence.
James (Jimmy) & Ursula Morrison lived at Makakatana for 50 years where before moving to Ballito, on the KwaZulu Natal north coast, where Ursula Morrison still lives. The family business 'Jock Morrison & Sons' wholesalers, are still being successfully run by his sons and grandsons today. Ursula is an incredibly gracious and wise lady and is adored by her family. She is very blessed with good heath, both physically and mentally. She has written some wonderfully rich memoirs on some of the history of Makakatana. Ursula is now 94, has 5 sons and one daughter,(John, Barry, Pam, Bruce, Keith and Hugh), 16 grandchildren and 23 great grandchildren!
Hugh and Leigh-Ann's three boys, Daniel, Andrew and Christopher are now fourth generation at Makakatana.
A Message from the Owners
We, Hugh and Leigh-Ann Morrison are very proud and privileged to be able to continue living at Makakatana and to run our beautiful Lodge here. To us, the iSimangaliso Wetland Park is a paradise that we cherish and are honoured to be able to share it. We are so grateful to my Mom & Dad James (fondly remembered as Jimmy) & Ursula Morrison in helping us build our business and for all their support. 
 
To all our future guests, we pride ourselves in being able to allow you to experience this wonderful paradise, and to all our past guests & friends, we thank you for your support and look forward to seeing you all again. 
 
Hugh and Leigh-Ann Morrison 
#Heritage #RootsWithRoutes