Conservation
Makakatana charges levy of R100 per person per night and R50 per child per night, that goes towards organisations and projects that are very close to our hearts. We thank you for your support. Should you wish to support any of these Associations, please let us know and we will gladly get you more involved so that you can make a greater difference. Each of these organisations have a link to their websites should you wish to support them directly.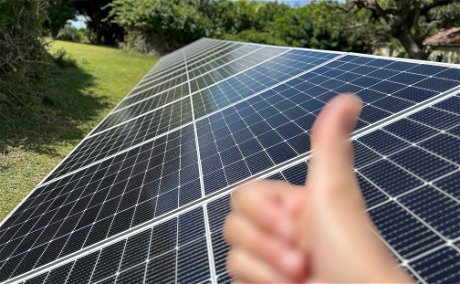 Solar
Makakatana Bay Lodge has recently joined the growing number of African safari lodges who have opted to go solar. We recently implemented a greener energy supply solution that will help us reduce our dependence on the very strained power grid in South Africa.
Solar power is rapidly becoming an essential component of the African Safari Experience, as bush lodges across Africa embrace renewable energy alternatives. These cleaner energy options not only provide a better alternative but also contribute to a more enjoyable African safari experience.  Makakatana also has a back up generator that is reserved solely for emergencies.
We are pleased to report that guest satisfaction has improved since implementing solar power, and our carbon footprint has significantly decreased. 
African Wildlife Vets
Makakatana Bay Lodge supports African Wildlife Vets which is a non-profit organisation in Zululand. We would encourage you to read the document attached to find out more about what they do to support these dedicated wildlife veterinarians who desperately need support. 
We are so personally affected by poaching, particularly rhino poaching, and unfortunately people generally have no idea how these dedicated vets are working behind the scenes and around the clock to try to support and save so many animals.  They are severely understaffed (there is only one permanent veterinarian for the entire provincial conservation organisation, Ezemvelo KZN Wildlife) and underfunded, and often do not even have the veterinary drugs to help suffering animals. 

We at Makakatana Bay Lodge are committed to doing what we can to support these dedicated, committed and passionate vets who work so selflessly to save our wildlife.  
Your support would be greatly appreciated and could make a huge positive impact!. 
If you would like to donate directly, outside of our levy, to the African Wildlife Vets fund, please contact them at [email protected]  or you can add a donation to your bill and write your details in the register of your donation which we will gladly forward on your behalf. 
Please have a chat to management should you want any further details.  Kate Church, one of the founders of the Organisation is based in the uMkhuze section of the iSimangaliso Wetland Park, and given enough time, would gladly come out to meet with you personally. 
"We should not need to have a "Save an Animal Day", Save from what?, It is in fact "Save from who".  

It is Human Kindness, Compassion and Caring that so desperately needs to be saved." ― Paul Oxton. 
Ezemvelo Wildlife - Anti Poaching Unit
Fighting poachers is not for the faint-hearted. Perhaps the bravest are those in anti-poaching teams who encounter danger on a daily basis. A portion of the funds raised through our levy goes towards purchasing equipment like binoculars, trap cameras and drones for the anti-poaching units. It is becoming incredibly overwhelming for anti-poaching units to face the threats of poachers when they do not have the right equipment. If you can help us further by providing them with any equipment, please let us know and we will engage with you further.. 
Destiny House Ministries
We also support Destiny House Children's Ministries in Mtubatuba, which exists to empower and enable children to fulfil their God-given destiny. They provide a loving home for 24 orphaned and abandoned children and provide an Early Childhood Development Programme to the wider community. They believe in family as the foundation of a healthy society. 
If you would like to donate directly to Destiny House please contact them at [email protected] or you can add a donation to your bill and write your details in the register of your donation which we will gladly forward on your behalf.   
Guests often leave stationery or old clothes that we are happy to drop off for you. 
If you would like to visit the Orphanage please chat to the Lodge manager who can direct you.  
To find out more about Destiny House Ministries - link
Vukunane Development Project
Vukunyane Development Project

Vukunyane is a community development initiative founded by Themba Mtembu of St Lucia Birding in October 2012. Themba is a specialist birding guide based in St Lucia.
Vukukhanye has always been about supporting locals within the uMkhanyakude district. The primary goal of the project is about raising environmental awareness among local schools and communities through effective, professional training.  It is about sustainable conservation and tourism.  They are also assisting schools with setting up and maintaining their own vegetable gardens .
Sustainability at Makakatana Bay Lodge
Here at Makakatana Bay Lodge, we are very conscious about the environment and the effects that we have on it.
We have systems in place that control and monitor our water usage and wastage. We are conscious about conservation and sustainability and have implemented a recycling program for our waste bottles, tins and plastics. We have an energy saving system in place, reduced light pollution, have our own bee hives, are active removing alien plants, serve filtered water in glass jugs to ensure we use no plastic bottles etc. Please ask us if you would like more information on our Conservation and Sustainability efforts.
Above all we pride ourselves in following the iSimangaliso Wetland Park environmental policies, guidelines and internal park rules. iSimangaliso Wetland Park Authority provide guidelines for their internal park rules - link